Dr. Mike Donaldson
Lead Instructor, Institute for Science and Mathematics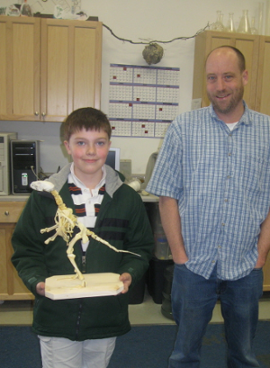 Dr. D (right) with student Aidan Hunter who is displaying his "chickenosaur" creation.
Dr. D is an Alaskan homeschooling parent, and scientist with over twenty years experience in quantitative analytical research. He is passionate about sharing the joy of learning and discovering scientific principles with the next generation.

With over a decade of experience in providing hands-on learning opportunities for children of all ages at the Mad Scientist Workshop in Fairbanks, Dr. D is an expert at explaining scientific principles in ways that make sense.

Whether it is helping students marvel at captured insects under a microscope, dissect an electronic component, or perfect a new mechanism for a Rube Goldberg marble run, Dr. Donaldson never tires of seeing the joy of discovery and learning when a scientific principle comes to life.